Student Adventure Camps, during 19-26, March 2016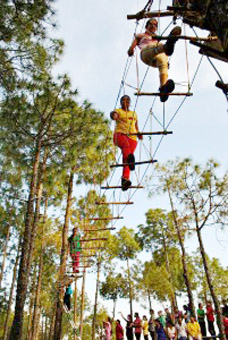 Student Adventure Camps During 19-26 March 2016
At Pine Hills Eco Camp, Barog, HP
(These camps are in addition to organized group camps from schools)
Receiving requests from parents & students for holding two to four days camps during holiday period 19-26 March 2016. Basic highlights of camps being organized:
• Join on any day, any time before sunset. Choose any period two to four days during 19 – 26 March 2016.
• Treks & Soft Adventure, pastimes/team bonding games/bonfire/music/dance/fun.
• Pine Hills Eco Camp licensed IAYP Adventure Operator.
• Parents/Guardians can accompany.
• Queries, Email harwantkrishan@gmail.com or Cell 9218666623, 9218666638.